Books & Such

This page features books about Charleston; many of which were used in the production of Charleston Illustrated. Titles are available in association with Amazon.com, "Earth's Biggest Bookstore".

Clicking on each link will take you to Amazon's page for each book; where publication and pricing, and ordering information is located.

Note: If you are looking for a specific title that is not available on Amazon.com, try calling The Preservation Society Bookstore at (843) 722-4630, or email them here. They are very knowledgeable and have the best collection of Charleston books available, and they are happy to handle mail orders.

Books About the City, Architecture, History:

The Early Architecture of Charleston by Albert Simons, AIA, and Samuel Lapham, Jr., AIA.

Published in 1927. Simons & Lapham were well known local architects who edited this work. Includes many photographs and original measured drawings.

Charleston: Come Hell or High Water by Robert N Whitelaw, Alice F. Levkoff

This book is an incredible collection of photographs from the civil war until the 1930's.

The Buildings of Charleston by Jonathan H. Poston

Poston gives the histories of hundreds of houses and buildings in the historic districts. Many small pictures, plans, and maps.

Plantations of the Carolina Lowcountry by Samuel Gaillard Stoney, Ed. Albert Simons, AIA, and Samuel Lapham, Jr., AIA.

Available at the Preservation Society Bookstore at (843) 722-4630, or email.

Charleston in 1883 by Arthur Mazyck, Gene Waddell.

This book was published just before the hurricane of 1885 and the great earthquake of 1886. It became a record of Charleston architecture, much of which was lost in those disasters.

This Is Charleston: An Architectural Survey of a Unique American City

By The Carolina Art Association, Samuel Gaillard Stoney

Available at the Preservation Society Bookstore at (843) 722-4630, or email.

Bird's Eye Views : Historic Lithographs of North American Cities by John William Reps

Charleston's Maritime Heritage, 1670-1865 : An Illustrated History by P.C., III Coker

Charleston Style by Susan Sully

From eccentric domiciles left virtually unchanged and unrestored to grand National Historic Landmarks, this book shows Charleston in all her degrees of splendor.

Books About Gardening and Gardens:

Gardens of Historic Charleston by James Cothran

Much more than a picture book of Charleston gardens, Cothran's book covers the history and horticultural heritage of the Charleston garden. He also includes a wonderfully detailed section of the plants and flowers that make up Charleston's gardening tradition.

Mrs. Whaley and Her Charleston Garden by Emily Whaley, William Baldwin

Mrs. Whaley taught me how to dance! (And hundreds of other Charlestonians, too)
Armchair Tour Series:

Great tours of the featured city. Narration by professional local walking tour guides; dozens of tours based on themes, events, architectural styles, etc.

The CD's navigation is not restrictively linear, as most CDs are. Instead you can follow links off to whatever peaks your interest. The CDs also take advantage of the technology, for example- there are 360 degree Quicktime panoramas of the interiors of many of the Cathedrals.

Books About Food and Culture:

In most, if not all of these books, food and culture are so intertwined that to list them as mere cookbooks would be a crime. Most are filled with far more than recipes (or receipts as we call them in Charleston) as the following excerpt will contest.

"But times have changed. And along with the change has come a cooking spree. All sorts of people turn out to have great talents who would never have dreamed of going into a kitchen a generation ago. There is a charming story that tells about how people used to feel about their kitchens. A young Charleston bride, whose husband was overseas in service-this must be a World War I vintage story-decided to move back into her parents' home, be patriotic and rent her own house. The Navy wife who came to rent it was the ideal tenant. She loved the antique furniture, the beautiful rugs, and her cultivated tone of voice convinced the daughter and her mother that she spoke the truth when she said it was just like home.

But the next day she called up and said rather sharply, the house was lovely, but something would have to be done about the kitchen. There was a shocked silence at the other end of the line and finally the mother's voice said, "You went into the kitchen?"

Mrs. Whaley Entertains : Advice, Opinions, and 100 Recipes from a Charleston Kitchen by Emily Whaley, William Baldwin

More from Charleston's foremost authority on social graces.

Hoppin' John's Lowcountry Cooking by John Martin Taylor

John used to have a great little cookbook store on Pinckney Street. Now he deals from his web site at: www.hoppinjohns.com

Louis Osteen's Charleston Cuisine by Louis Osteen

As the owner and Chef of one of Charleston's premier restaurants, Louis's Restaurant and Bar, Louis is one of the top authorities on Charleston cooking. His book is creatively laid out into Fall, Winter, Spring, Summer Inside and Summer Outside cooking.

Charleston: People, Places and Food by Jane Kronsberg

Once the restaurant reviewer for the Charleston Post and Courier newspaper, Jane has compiled a sampling of receipts from Charleston and many of the surrounding islands.

Two Hundred Years of Charleston Cooking by Blanche S. Rhett

This book is worth having just for the forward alone; full of witty anecdotes on Charleston and cooking.

"You will find many wonderful things to do with rice in Two Hundred Years. But don't look for rice pudding. The very idea of sweets with rice upsets Charlestonians who take rice very seriously. Our late beloved historian and wag, Sam Stoney, used to ask the hoary old riddle, "Why is a Charlestonian like a Chinaman?" "Because he eats rice and worships his ancestors," you would reply on cue.

"It used to be that way," Sam would agree, "but nowadays the question should be, What's the difference between a Charlestonian and a Chinaman? And the answer is, of course, A Chinaman lives on rice and worships his ancestors, but a Charlestonian lives on his ancestors and worships rice."

- Elizabeth Verner Hamilton,

February 29,1976. From the forward, Two Hundred Years of Charleston Cooking.

AMAZON.COM is the registered trademark of Amazon.com, Inc.
Buy Charleston Illustrated at Amazon.com:
or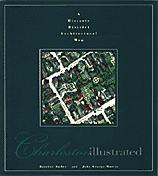 Planning a trip to Charleston? Here are some other suggested travel related books.
Travel Books:

Portable Charleston & Savannah
For the short-term traveler who insists on value and doesn't want to pack a full-size guidebook, here's a series that selects the very best in each destination.

Designed for people who just want the highlights. Includes sights, the best restaurants and lodging, plus shopping, nightlife, and outdoors highlights - all in a new trim, petit package.
Four Corners of Law T-shirts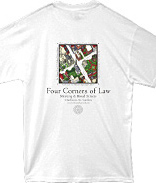 Take a look at our Charleston T-shirts , available online here